Yiddish-Belarusian writings, both in their ethnographical and philological aspects, provide much interesting material for further research.

Notes:
1. F.J. Beranek, "Jiddisch" in Deutsche Pihilologie im Aufris, ed. W. Stammler, vol. 1, cols. 1551-1590,
Berlin-Bielefild, 1953.
Cf. also Robert Joseph Tamushanski, German Loanwords in Middle Byelorussian Ph.D. thesis, London University, August 1974, p. 50.
2. Uriel Weinreich, "Yiddish and Colonial German in Eastern Europe: The Differential Impact of Slavic" in American Contributions to the Fourth International Congress of Slavicists, Moscow, 1948, pp. 372-374.
3. S. M. Dubnov, History of the Jews in Russia and Poland from the Earliest Times until the Present Day, vol. 1: From the Beginning until the Death of Alexander I (1825), (trans. J. Friedlaender). Philadelphia, 1946, pp. 41, 43, 59-60.
Cf. also R. J. Tamushanski, op. cit., pp.82-84.
4. Dubnov, op. cit., p. 67. Tamushanski, op. cit., p. 84.
5. G. M. Meredith-Owens and Alexander Nadson, "The Byelorussian Tartars and their Writings" in Journal of Byelorussian Studies, [London], vol. 2, no. 2, 1970, pp. 141-176.
6. Zmitrok Biadulia, "Rukapis carnakniznika XVIII vieku (Bahatyja matarjaly pa bielaruskaj etnahrafii)" in Volny Sciah, Minsk, December 1921, pp. 33-35.
7. Ibid., pp. 34-35.
8. Uriel Weinreich, "Di forsung fun 'missparakike' jidise folkslider" in YIVO Bleter, [New York], 1950, pp. 282-288.
Cf. also Musij Berehovskjy, "Cuzomovni I riznomovni pisni v Jevreiv Ukrainy, Bilorusi j Polsci" in Etnohrafycnyj Visnik, VI/9, 1930, pp.37-51.


Examples of Yiddish folk songs from Belarus:

All these songs are taken from the collection edited by S. M. Ginsburg and P. S. Marek: Jevrejskija narodnyja pesni v Rossii, published in 1901 in St. Petersburg. The Latin script is provided by the present author.
No. 85. From Vilna: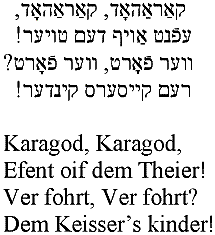 Karagod is a Belarusian dance. Interesting to note is that Yiddish has lost the qualitative distinction between long and short vowels, just as in the phonology of the Slavonic languages spoken in the same territories.
No. 112. The refrain in this longer song from the Minsk gubernia is in Belarusian: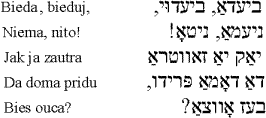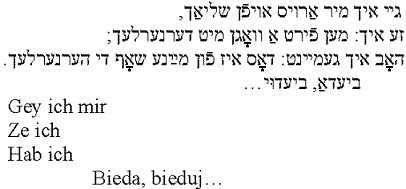 No. 351. This Jewish song from the Viciebsk gubernia contains elements of Hebrew, Yiddish, and Russian:


No. 352. This song from Minsk gubernia is Belarusian albeit with many Russicisms. Berehovskyj (op. cit.) even provides us with three variants of this melody (Nr. 7, 8, and 9).






No. 372. This Jewish song from the Mahilou gubernia manifests elements from Belarusian, Ukrainian, and Russian in addition to Hebrew:
No. 374. This mixed language Jewish song originated in the Minsk gubernia: